Biography
Deshima Sounds is the brain child of long time friends Neodash Zerox and SuperEuroJimmy. They started to play together back in 2006 at the Dutch event called AnimeCon. This became a big success and eventually the two collaborated to start Deshima Sounds in 2008, with the first party held in October of that year. Ever since Deshima Sounds is a well known name in the Dutch scene, with friends all over Europe. Even in Japan a lot of connections have been made and the Deshima Sounds project is supported by big names in the Japanese dance scene.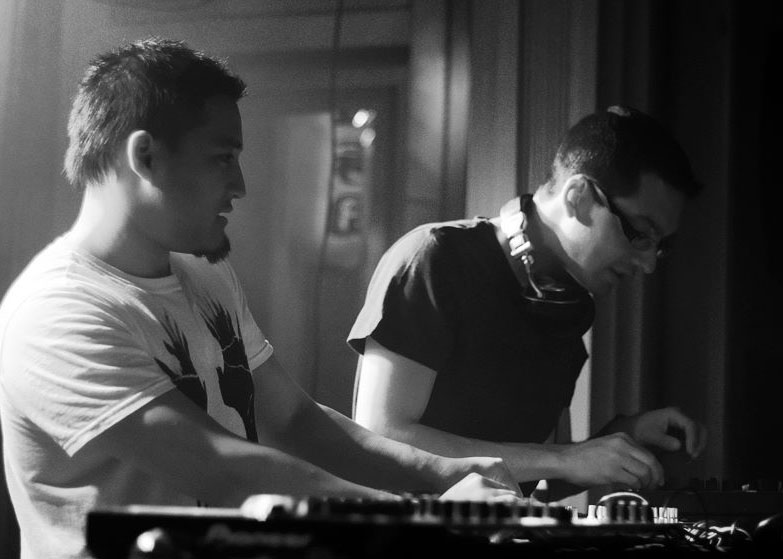 Neodash Zerox
Specializes in: Japanese hardcore, freestyle, bass music
If you want to talk to someone who knows their hardcore music, it's Neodash Zerox. He has been active in the hardcore scene since the beginning and during the years made a lot of friends with Japanese hardcore producers. His love for fast paced dance music is something he likes to share with like-minded. While mingling with other fans, he always treats them a perfect blend of all kinds of different music styles, something he likes to call freestyle.
Neodash Zerox grew up in the heart of the origin of hardcore music, the Netherlands. Throughout his younger years he witnessed the start of early raves, saw the happy hardcore hype bloom and was a fan of the hardcore music that came from those styles. He got bored of the Dutch hardcore music that was released after 2003 and needed to find something else. That's where he found Japanese hardcore, or j-core, and was hooked right away.
During the COVID-19 pandemic in 2020 Neodash Zerox started his weekly live podcast called J-Core Life on Twitch. Every Monday is j-core day, where during this podcast Neodash Zerox discusses j-core albums and has interviews with j-core artists.
SuperEuroJimmy
Specializes in: eurobeat, house, EDM
SuperEuroJimmy is the Dutch ambassador of the music genre eurobeat and a veteran specialized in Japanese club music. He is one of the very few deejays in Europe who plays the underground music style eurobeat, but doesn't just limit himself to that. Besides being an eurobeat encyclopedia he's also your go-to guy for all commercial electronic dance and knows how to bring the Japanese club to life. Everyone just has to dance whenever SuperEuroJimmy is behind the decks!
In his youth SuperEuroJimmy grew up with eurodance, and this passion for dance music is still going strong today. In the early 2000's SuperEuroJimmy came in touch with Japanese pop music (artists like Ayumi Hamasaki and Koda Kumi), and through the video game Dance Dance Revolution he got introduced to Japanese dance producers. The upbeat and energetic songs got to him and have stayed with him ever since.
Being one of the two founders and owners of Deshima Sounds, SuperEuroJimmy has been active ever since the beginning. His goal is to let the entire world hear all the awesome songs that are hatched in the Land of the Rising Sun!
History
Deshima Sounds started out as a disco party at an anime convention called Abunai! back in 2005. Here Neodash Zerox played a hardcore music set which was an immediate success. Another convention called AnimeCon wanted a similar event with more pop-styled music. This is where SuperEuroJimmy joined in. Together with Neodash Zerox they showed the crowd a mix of Japanese pop, hiphop, dance and hardcore music, and the crowd loved it! This meant a returning party at both conventions (almost) every year.
In 2008 however, the people at Abunai! decided they didn't want to book the two deejays. There was no disco event happening at their convention, so Neodash Zerox and SuperEuroJimmy sat together and decided to start their own gig. And thus, Deshima Sounds was born. And ever since 2008 they have been throwing parties at their own events and at other events where they were booked. And they're still going strong, not planning to stop any time soon!
Past Gigs
To give you an idea of where Deshima Sounds has played before, you can find a list of past events below.
2005
September - Abunai! 2005, Hardcore party with Neodash Zerox
2006
June - AnimeCon 2006, Neodash Zerox and SuperEuroJimmy first start together
September - Abunai! 2006
2007
June - AnimeCon 2007
August - Abunai! 2007
2008
May - AnimeCon 2008
October - Deshima Sounds, The first Deshima Sounds party at Club Bazart Den Haag
2009
March - Deshima Sounds: Spring Is In The Air, It's Time To Jump, with MC B-Box
May - Deshima Sounds at AnimeCon 2009
October - Deshima Sounds: Shocking Electronic Vibes
2010
April - Deshima Sounds: Bling Bling Baby!, Guest DJ: Omega Zero (Canada)
August - Deshima Sounds at Abunai! 2010, Guest DJs: Omega Zero (Canada), ThaChez
September - Warp2one, Collaborating party with CSR
October - Deshima Sounds: Get Ready For Battle, The Beast Is Coming!, Guest DJ: Reckless
2011
May - Deshima Sounds at AnimeCon 2011, Guest DJs: RAVEMAN (Aural Vampire, Japan), Sumlepel, ThaChez
May - Deshima Sounds: Light Years Ahead, Guest DJs: JAKAZiD (United Kingdom), Sumlepel
August - Deshima Sounds at Abunai! 2011, First time lasershow by Dnstje
December - Deshima Sounds: Bits With A Bite, Guest DJ: Eindbaas
2012
May - Deshima Sounds at AnimeCon 2012, Guest DJ: Remo-Con (Japan)
June- Deshima Sounds: Sumo of Summer
August - Deshima Sounds at Abunai! 2012
December - Deshima Sounds: Clubbing Yakuza Style, Guest DJ: RoughSketch (Japan), new location at Club Pip
2013
June - Deshima Sounds at AnimeCon 2013, Guest DJs: Men of Mega
July - Deshima Sounds: 10th Edition, First time in Arnhem
August - Deshima Sounds at Abunai! 2013
2014
January - Deshima Sounds: Clubbing Japanese Style, Club Pip Den Haag, Guest DJs: DJ Kentai (France), AhoSome (France)
April - Deshima Sounds: Rising Sun, new location at Luxor Live Arnhem, Guest DJs: DJ Kentai (France), AhoSome (France)
June - Deshima Sounds at Ja!Pan, Eindhoven University of technology
June - Deshima Sounds at AnimeCon 2014, Guest DJ: JAKAZiD (United Kingdom)
August - Deshima Sounds at Abunai! 2014, Guest DJs: DJ Kentai (France), AhoSome (France)
September - Deshima Sounds spin-off party: Lazy Sunday
December - Deshima Sounds: Way Of The Samurai, Club Pip Den Haag
2015
January - Deshima Sounds at GamePitCon
March - Deshima Sounds at TonTonClub XL
June - Deshima Sounds at AnimeCon 2015
August - Deshima Sounds at TomoParty 2015
August - Deshima Sounds at Abunai! 2015, Adä joins as a VJ
2016
April - Deshima Sounds at TomoCon 2016
June - Deshima Sounds at AnimeCon 2016
August - Deshima Sounds at TomoParty 2016
August - Deshima Sounds at Abunai! 2016
October - Deshima Sounds at TomoFair 2016
October - Deshima Sounds at Nishicon 2016
2017
April - Deshima Sounds at Tomocon 2017
June - Deshima Sounds at AnimeCon 2017
July - International Gyaru Festival, hosted by Deshima Sounds
August - Deshima Sounds at Abunai 2017
August - Deshima Sounds at TomoParty 2017
September - Deshima Sounds at TomoFair 2017
2018
February - Deshima Sounds at Nishicon 2018
March - Deshima Sounds at Vincent's Verjaardag, Van Gogh Museum Amsterdam
April - PARADISE, hosted by Deshima Sounds
June - Deshima Sounds at AnimeCon 2018
August - Deshima Sounds at Abunai 2018
August - Deshima Sounds at VienCon
October - Deshima Sounds at KyoCon
November - Deshima Sounds at Tropenmuseum, Museumnacht Amsterdam
November - Deshima Sounds at Japan Festival Amstelveen
2019
June - Deshima Sounds at AnimeCon 2019, Ahoy Rotterdam
September - Deshima Sounds at VienCon
September - Deshima Sounds at Pon The Beats
2020
All year - Various online parties due to COVID-19 pandemic
May - Start of Paradise Online, an online party catered to eurobeat music worldwide
2021
All year - Various online parties due to COVID-19 pandemic
October - Deshima Sounds at Heroes Made In Asia